Verizon Communications Inc. (NYSE, Nasdaq: VZ) and Yahoo! Inc. (Nasdaq: YHOO) entered into a definitive agreement under which Verizon will acquire Yahoo's operating business for approximately $4.83 billion in cash. The deal is subject to customary closing conditions, approval by Yahoo's shareholders, and regulatory approvals, and is expected to close in Q1 of 2017.
Some of the key features of the acquisition
The sale does not include Yahoo's cash, its shares in Alibaba Group Holdings, its shares in Yahoo Japan, Yahoo's convertible notes, certain minority investments, and Yahoo's non-core patents
Combined, AOL and Yahoo will have more than 25 brands in their portfolio for continued investment and growth.
Yahoo has more than a billion monthly active users of its search, communications, and digital content products. Acquiring Yahoo thus would facilitate Verizon to compete with Google and Facebook Inc. in digital advertising.
Yahoo's key assets include market-leading premium content brands in major categories including finance, news, and sports, as well as one of the most popular email services globally with approximately 225 million monthly active users
Now let us have a look at some key financials for both companies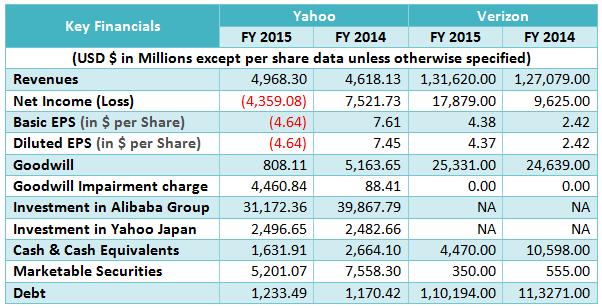 Figure 1: Comparative Figures for Key Financials of Yahoo and Verizon
Yahoo reported a loss of $ 4,359 million in FY 2015 as compared to a net profit of $ 7,522 million in FY 2014. In early 2015, Yahoo announced a plan wherein its holdings in Alibaba would be spun off into a separate company. However, the IRS was not prepared to commit itself that the spin-off proposal would not attract any tax. To avoid a large tax liability (upwards of $10 billion), the plan was called off. Instead, Yahoo is hiving off its core operating business to Verizon. Yahoo will retain its investments in shares of Alibaba Group Holdings and Yahoo Japan.
However, for Yahoo, it has been a series of missteps that have now culminated with its operating business itself being put on the chopping block. We ran the numbers through our data analytics platform and this is what we found.
In the last 4 years, Yahoo has made several acquisitions whose valuations could not be justified based on the target's' book values. This resulted in the creation of goodwill assets totaling to nearly $2 billion. Finally, in FY 2015, there has been a huge write-off of the goodwill value essentially confirming that the acquisitions have not value accretive.
The change in goodwill from FY 2011 till date is shown in the table below ($ in millions):

Figure 2: Movement in Goodwill for Yahoo across the last 5 years
There has been a huge goodwill impairment of $4,460 million in FY 2015 which has in turn resulted in a net loss of $4.3 billion. Yahoo recorded goodwill impairment charges of $3,692 million, $531 million, $230 million, and $8 million corresponding to their U.S. & Canada, Europe, Tumblr, and Latin America reporting units, respectively, for the year ended December 31, 2015. The impairments were a result of a combination of factors, including a sustained decrease in market capitalization in the fourth quarter of 2015 and lower estimated projected revenue and profitability in the near term.
With the sale to Verizon of its core operating business, what will be left with Yahoo is its investments in Alibaba and Yahoo Japan, cash, marketable securities, and debt liabilities. Thus it will become just an investment holding company, a far cry from being a technological titan two decades ago.
Feel free to reach out to us should you would like a free trial of the rich data set and analytics platform that we have built which gives deep insights into company financials.
Get in touch with us today if you're looking to produce high-quality XBRL reports.